| | |
| --- | --- |
| | One of the Famous Adventure Sports Awaiting the Trekking Enthusiast in India. |
Pindari Glacier Trek

Trip Info
Duration : 10 days.
Destination: Delhi - Kathgodam - Munsiyari - Lilam - Bugdyar - Martoli - Milam Village - Martoli - Martoli - Lilam - Munsiyari - Bageshwar
Highest Point : 4200m
Best Season : May - Oct
Grade : Moderate.


Day 1:
Arrival at Delhi, meet our staff & drive to Hotel, Day free at Delhi. O/N hotel.
Day 02 & 03 : Delhi to Kathgodam -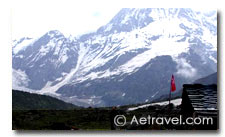 Day free at delhi for city tour & shopping. Evening take train to Kathgodam. O/n Train.
Day 03 : Kathgodam to Loharkhet ( 1750 m)
Arrival at Kathgodam, & drive on Himalayan roads to Loharkhet. O/N Guesthouse.
Day 4: Loharkhet to Dhakuri (2680 m)
This the day we start our trek, Its a 11 km trek from Loharkhet, Initially the trek is decend into the valley & later its a gradual climb till Dhakuri. O/N Tents.
Day 5: Dhakuri to Khati (2210 m )
This dat we trek for 8 kms to Khati, Located on the banks of Pinder river, Khati is the largest village of the whole trip. O/N tents.
Day 6: Khati to Dwali (2575 m)
Its a 11 km trek from Khati to dwali. Its 5-6 hrs of trek during which we will come cross many waterfalls. O/N tents
Day 7: Dwali to Phurkia (3206 m)
Its mild day of trekking during which we will cover just 5 kms. O/N Camps
Day 8: Phurkia to Pindari Glacier (3900 m) to Phurikia
WE start early trek, to reach the point zero. Its a 7 kms walk to reach the point which offers a great view of Pindari glacier. After sending time in admiring nature & clicking pics of the Pindari glacier we will return to Phurkia .O/N Camps.
Day 9: Purkia to Dwali
Its the begining of our return journey to Dwali. O/N camps
Day 10: Dwali to Khati
Return back to Khati . O/N camps
Day 11: Khati to Dhakuri
Trek for 3-4 hrs to reach Dhakuri . O/N camps
Day 12: Dhakuri to Loharkhet to Song
Its the last day of our trek, we will walk for 13 kms to reach Song. O/N guesthouses.
Day 13:
Song to Kathgodam - & drive back to Delhi. End of the tour





Copyright ©AeTravel.com All Right Reserved (Copying of Text & Picture from this site is Strictly Prohibited).

Site Developed & Maintained by Ushainformatique.com & ElectronWeb.com