| | |
| --- | --- |
| | One of the Famous Adventure Sports Awaiting the Trekking Enthusiast in India. |
Nanda Devi Base Camp Trek

Trip Info
Duration : 13 days.
Destination: Delhi - Kathgodam - Munsiyari - Lilam - Bugdyar - Martoli - Milam Village - Martoli - Martoli - Lilam - Munsiyari - Bageshwar
Highest Point : 4300m
Best Season :
Grade : Demanding.

Nanda Devi is the secnd highest peak in India Himalayas & is rates a one of the most photoganic mountains in the world. Its a treat for Mountain photographers to take shots of Nanda Devi. Its a trans Himalayan trek, we walk along the Gori Ganga. This trek is great way to explore the Indo Tibetan culture, the area was once the throbbing commercial center of Indo tibetan trade, one can still see the ruins of the centre.
Day 01: Delhi to Almora ( By train )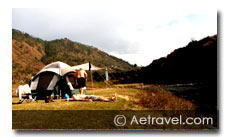 Arrival at delhi, meet our staff & transfer to hotel. Day free at Delhi. Evening take train to Kathgodam. O/N train.
Day 02 : Almora to Munsiyari to Chaukori
Early arrival at Kathgodam, Drive for 198 kms through Himalayan countryside & tea estates to Munsiyari & than to Chakori. O/N Guesthouse.
Day 03: Munsiyari to Lilam
This the begining of our trek, its a mild day of trekking from Munsiyari to Lilam. O/N tents
Day 04: Lilam t0 Bogudiyar(1850m)
This day is 12 kms of trek through the thick Himalayan forest, A steep climb will take us to Bogudiyar which the confuence of Gori Ganga river & Poting river. O/N camps.
Day 05: Bogudiyar to Rilkot(3200m)
This day of trekking is truly a trans Himlayan experience, its a 12 km trek from Bogudiyar to the ruins of Rilkot. Enroute we will explore the laspa Village & further north to Nanda kot Glacier. O/N camps
Day 06: Rilkot to Ghangar (3319m)
Its a enticing day of trekking into trans himalayan region, this day we will walk for 13 kms to Ghangar Village. the The ancient Ganghar village is begining point of Pachu valley, The village is known for its typical Jauhar anchitecture T ancient temple. O/N Camps
Day 07: Ghangar to Pachu Glacier (3880m)
Its a Enchanting & a strenuous day of trekking, Its distance of just 7 kms which takes more than 5 hrs. During the trek we will get closer & closer to Towering Nanda devi peak. we wil come across to alpine meadows , blooming with Rhododendron & pink & white flowers. We will reach the Pachu Glacier which at the base of North face grand Nanda Devi Peak. O/N camps.
Day 08: Nanda Base camp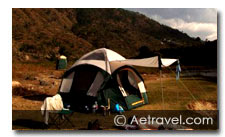 This day we will explore the base camp & take close looks to the majestic Nanda devi. O/N Camps.
Day 09:
Day free for rest.
Day 10: Pachu Glacier to Martoli
This is 17 kms walk which is totally a decend to Martoli village , Martoli village is ancient village which was once a important center of Indo Tibetan trade. This village has amazing wooden carved houses. The village offers a great view of Nanda Kot & eastern face of Nanda Devi. O/N camps.
Day 11: Martoli to Rargari
Its a 18 kms down hill trek from Martoli village to Rargari. O/N Camps.
Day 12: Rargari to Munsiyari
Its the last day of trek , during which we walk for 14 kms to Chaukori & than drive for 98 kms to Munsiyari .O/N guesthouse.
Day 13:
This day we will drive for 198 kms to Kathgodam & take evening train to Delhi. O/N train. End of trip.





Copyright ©AeTravel.com All Right Reserved (Copying of Text & Picture from this site is Strictly Prohibited).

Site Developed & Maintained by Ushainformatique.com & ElectronWeb.com