| | |
| --- | --- |
| | One of the Famous Adventure Sports Awaiting the Trekking Enthusiast in India. |
Outter Nanda Devi Trek. Via Kuari Pass

Trip Info
Duration: 12 days.
Destination: New Delhi - Haridwar-Vikas Nagar Ghat - Ghat-Ravni – Jhinji - Pana-Kuari Pass – Dombita - Auli - Delhi
Highest Point : 4268 mts
Best Season :
Grade : Moderate.

Day 01: New Delhi.
Arrival at Delhi Meet our representative & transfer to Hoel. O/N Hotel.
Day 02: Delhi to Rishikesh
After Early Breakfast drive for 230 kms to Rishikesh, Afternoon explore rishikesh area. O/N Hotel.
Day 03 :
Travel from Haridwar-Vikas Nagar Ghat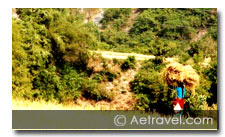 Day 4: Ghat-Ravni:
Walking Time 4-5 hrs.> Now road was being constructed to reach deep in forest Ravni village which in older time used to make hand made cloths and ornamnets to be sold in distant markets. Situated in dense jungle, Ravni is a village which is fast becoming "known" due to reach of the road.
Day 5: Ravni-Jhinji:
Walking Time 4-5 hrs.> A trek which will engrave a memory on your mind. Walking in high bushes, dense jungle and scenic views....Jhinji is a tribal area which used to have links with Tibet in ancient times.
Day 6:
Rest Day
Day 7: Jhinji-Pana:
Walking Time 5-6 Hrs.> Gradual ascending through pine forests and then descending to valley floor, again ascending to establish camp.
Day 8:
Pana-Kuari Pass ( 4268m) -Domabita: Gradual ascending to the footsteps of Kuari Pass. By Himalayan standards, this is no tough job and view from top of Kuari Pass is spectacular. Descend gradually to camping place of Domabita.
Day 9:
Rest Day
Day 10 : Dombita-Auli :
Walking Time 4 hrs.> Gradual walk through jungle and then high pasturs to Auli which is also a ski resort and ITBP training centra. Do not take pictures of unifirm people and their buildings. You can desend down through cemented stairs to Joshimath.
Day 11:
Travel: You can reach either Haridwar OR can reach Badrinath.
Day 12:
Reaching Delhi-hotel stay.





Copyright ©AeTravel.com All Right Reserved (Copying of Text & Picture from this site is Strictly Prohibited).

Site Developed & Maintained by Ushainformatique.com & ElectronWeb.com