| | |
| --- | --- |
| | One of the Famous Adventure Sports Awaiting the Trekking Enthusiast in India. |
Gangotri - Badrinath Trek

Trip Info
Duration: 18 days.
Destination: Delhi - Rishikesh - Uttarkashi - Gangotri - Bhujbasa - Gaumukh - Tapovan to Kalindi pass - Nandanvan - Vasukital - Kalindikhal Base - Rajparav - Arwatal - Gastoli - Ghastoli - Mana - Badrinath
Highest Point : 5020 mts.
Best Season :
Grade : Demanding.

Day 01: New Delhi.
Arrival at Delhi, & transfer to Hotel, Day free. O/N Hotel.
Day 02: Delhi to Rishikesh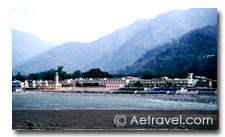 After Early breakfast, drive for 230 kms to Rishikesh , The journey takes 5-6 hrs. Afternoon arrival at Rishikesh, Evening free to explore Rishikesh. O/N Guesthouse.
Day 03 : Rishikesh to Uttarkashi ( 1885 mts )
Take early breakfast & drive for 145 kms to UttarKashi. O/N Guesthouse.
Day 04 : Uttarkashi to Gangotri (3040 mts )
This we will drive into Higher reaches of Himalayas, The drive from Uttarkashi to gangotri is around 100 kms & takes 5 hrs. O/N guesthouse.
Day 05: GANGOTRI (3040 m) :
Its a Day free for Exploring Gangotri & Planning our further trek. O/N Guesthouse.
Day 06: Gangotri to Bhujbasa ( 3650 mts )
This is first day of our trek to Bhojbasa, It's well defined pilgrimage route of 14 kms, Its a 5 hrs of walking to the source of Holy Ganges, Our trek will take us through Chirbasa known for it Chir Forest. This day we will have a majestic view of Mount Shivling & Mount Meru. O/N camps.
Day 07: Bhujbasa to Gaumukh (3900 m) to Tapovan ( 4,463 mts )
Its a great day of trekking from Bhojbasa to Tapovan, Its a trek of 12 kms that takes around 5 hours ,enroute will come to Gaumukh Glacier which is source of Holy Ganges, Once can see Bhagirathi peak & later a steep climb will take us to Tapovan, which the base of Mount Shivling , Mount Meru. Tapovan is open grassland & is a Ideal place for camping. O/N camps.
Day 08: Tapovan to Kalindi pass (5947 mtrs) Nandan Van (4500 mts)
We start our trek from Tapovan to Nanadan van, Its a Challenging day of 10 kms , we will walk along the left banks of Gangotri Glacier. O/N Camps.
Day 09: Nandanvan to Vasukital ( 4890 mts )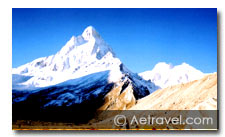 On this day we will trek on the steedy asend of 4 hrs to Vashukital , we will walk along the Chaturangi Glacier. O/N camps at Vasukital.
Day 10: Vasukital to Khara Pathar ( 5456 mtrs )
Ww start our early trek & walk for 5 hrs to Khara Pathar, which is known for its sheer rock face. O/N camp.
Day 11: Khara Pathar to- Kalindikhal Base
This the tough day of the trek, Its a walk of 10 kms from Khara Pathar to Kalindikhal base, trek offers viwe towering Sweta Glacier , Satopanth peak ( 7075 mts ) & Chandra parvat ( 6739 mts ). O/N Camps.
Day 12: Kalindikhal Base to Rajparav (4910 mts ) Via Kalindi pass (5947 mtrs)
After early breakfast we start our trek to Rajparav , Its a demanding day of trek with crossing ice falls & climbing slopes. Its a 6 hrs trek via Towering Kalindi Pass (5947 Mts ). O/N
Day 13: Rajparav to Arwatal (3910 mts )
Start your trek from Rajparav to Arwatal , its a 13 kms trek which take 6 hrs. O/N camps.
Day 14: Arwatal to Gastoli (3795 mts )
Take early breakfast & trek to Gastoli which is 16 kms from Atwatal. Enroute we will cross Border police check point. Its a 7 hours trek. O/N camps.
Day 15: Ghastoli to Mana to Badrinath (3133mts ),
Its the last day of our trek , during which we will cover 14 kms to Mana Village which is road head & Later drive to Badrinath, which is India's one of the most Important Pilgrimage & it the part of one of four most important shrines in Himalayas. O/N guesthouse.
Day 16 -18:
Badrinath to Joshimath to Rishikesh to Delhi ( drive back to Delhi ) End of trip





Copyright ©AeTravel.com All Right Reserved (Copying of Text & Picture from this site is Strictly Prohibited).

Site Developed & Maintained by Ushainformatique.com & ElectronWeb.com