| | |
| --- | --- |
| | Explore Indian adventure with bikes or enjoy a jeep safari tour. |
Ganges Rafting Tour

Trip Info
Duration: 07 Days / 06 Nights


Day 01:

Early morning after breakfast, hit the Indian Highways leading towards bank of River Ganges at Rishikesh, India. This drive will give you the view of holy town of Rishikesh where the Ganga River enters the plains. Arrival and Check in at Camp on the sandy beach of River Ganges. At evening you will be introduced with all the team member followed by camp fire and local dances as well as folk music & the tipical indian dinner. Overnight at Camp.
Day 02: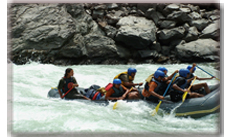 Today with the hot steaming coffee, drive 4 hours inorder to reach the raft put in point below the Tehri Dam tunnel. After breakfast, start the adventerous journey with a series of Grade 3+rapid. Arrival at Naggar village and set up the camps for overnight halt. Evening at Camp with campfire dinner.
Day 03:
Next adventerous journey where you will encounter more Grade III+ rapids Grade IV rapids including a small waterfall towards the end of the gorge. Arrival at Camp near Beas Ghat which is famouse for mahseer often called as Gold of Ganga. Overnight at Camp.
Day 04:
This is a rest day at beas ghat where either you can hike up or go for Mahseer Fishing. Overnight at Camp.
Day 05:
An easy day with small rapids. Great day to relax, soak in the sun, bodysurf and bird-watch. Raft till Camp Silver Sands a few kms below Kaudiyala after negotiating two Grade IV rapids, "Daniel's Dip" and the "Wall". Distance covered is approx.35 kms.
Day 06:
Drive to Shivpuri after breakfast. Raft big volume Ganga white water with "Roller Coaster" and "Golf Course" combined with lots of body surfing, making it a grand finale to the expedition.
Day 07:
Early morning after breakfast drive towards delhi inorder to catch the connecting flight / train towards home town. Our tour plan and services ends here.





Copyright ©AeTravel.com All Right Reserved (Copying of Text & Picture from this site is Strictly Prohibited).

Site Developed & Maintained by Ushainformatique.com & ElectronWeb.com