| | |
| --- | --- |
| | Explore Indian adventure with bikes or enjoy a jeep safari tour. |
Roller Coaster on the Alaknanda

Alaknanda River Rafting Expedition from Oct 5th to Oct 11th 2007
There are few great frontiers rivers in the world - the Alaknanda is one of them. Rafting down this superb river is the only way to truly appreciate its beauty. It is acknowledged as one of the most spectacular and yet easy to raft river trips around, attracting adventurers from all over. The opportunity of an expedition-style trip, rather than merely 'thrills and spills' makes this the ultimate wilderness experience. At times on the trip, like all great expeditions, there will be times when patience is required. However, you will be one of the privileged few to have experienced this wilderness area. This is certainly a wilderness experience rather than the kind of rafting you might encounter on a one-day rafting trip. Levels can vary from more exciting levels often earlier in the season to more sedate levels late in the season. If you have had outdoor experience and think you are ready for this adventure, then the challenge is yours. There is very little doubt that this is an unforgettable experience, one that you will remember for the rest of your life.

Day 01 :

Depart for Haridwar by Shatabdi Express at 06:55 AM from New Delhi Railway station. Arrive Haridwar by 11:30 AM. Arrival assistance and transfer to Camp RapidFire on the banks of the Ganga at Village Singthali (35 kms. beyond Rishikesh). Post lunch a short run till Shivpuri to get familiarised with paddling commands and safety techniques, negotiating a few rapids, like "Three Blind Mice", "Crossfire", and the "Body Surfing rapid". Return to Camp for hot tea / coffee and snacks. Camp Fire barbecue dinner & overnight at the Camp.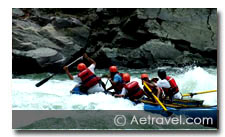 Day 02 :
»
Early wake up followed by breakfast. Pack up and depart for Rudraprayag. Driver through the small towns of Dev Prayag and Srinagar. 4/5 hours drive.
»
Special Evening Presentation on the Indus River Run – 2006
»
Dinner and Overnight at Rest House/hotel.
Day 03 :
»
Post breakfast drive to the put in point to start off the expedition and the first rapid you encounter is a class IV better known as "Holy Hole" and there after the rapid come in quick succession.
»
Dissolve into the atmosphere of the mountains and the scenery but give enough attention to those rapids you will need all your alertness to get through. We stop for lunch at a waterfall and head for Srinagar. We set up camp by a village known as Maletha. Dinner and overnight at the beach side camp. Don't be surprised if you fall asleep the moment you hit the tent. After all rafting 35+ Km on one day is some work.
»
Overnight at Maletha.
Day 04 :
»
After breakfast raft down to Devprayag, the confluence of the Alaknanda & Bhagirathi Rivers. The river is now called the Ganga.
»
Camp at Beas Ghat, a famous fishing spot for the Golden Mahasheer, also called the Ganga Gold. Cover 30 kms for the day.
»
Overnight at the camp
Day 05 :
»
A relaxed day with the rapids. A day for swimming, body surfing, relaxing and spotting wildlife. Raft 30 kms to reach Camp RapidFire a little after Kaudiyala, after running a Grade IV rapid, "Daniel's Dip" at Kaudiyala. Raft in for a cup of hot tea and snacks. Optional Evening walk for the participants.
»
Bonfire dinner and overnight at the Camp RapidFire.
Day 06 :
»
Today you start rafting from the camp and raft up to Marine Drive.
»
Starting with a Grade IV + the Wall which is the most technical of all the rapids we have been negotiating.
»
Back to the camp for lunch.
»
Join us for a hike across the river on the old trail to Badrinath. Bonfire and overnight at the Camp.
Day 07 :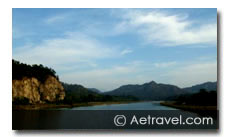 »
Drive down to Shivpuri after breakfast to begin the final day's run with big rapids, the "Roller Coaster" and "Golf Course" to make it an exciting end to a grand adventure.
»
The trip ends near Rishikesh-lunch and depart for Haridwar to catch the
»
Shatabdi from Haridwar at 06:15 PM
»
Arrive Delhi by late evening 10:30 PM
»
Expeditions Ends


Things you should carry
»
Warm Clothing for the evenings
»
A hat or cap
»
Sunscreen / Tan Lotion
»
A torch with extra cells
»
Adequate change of clothing (Comfortable T shirts and shorts/lowers for activities in water and on rock)
»
Good hiking shoes
»
Personal toiletries and medications
»
Personal Music Devices (if you can't do without it)
Rafting and Fitness Preparation

Rafting is an activity that any reasonably fit person can participate in. At Questrails we do ask, however, that all participants should feel confident in swimming with a buoyancy vest should they fall out of the raft. Their leaders will prepare you for such an event before you begin the trip. The degree of difficulty of the trip will depend on the water levels you encounter. Your guide will teach you the techniques to steer your raft. It will be up to the crew, under your guide's direction, to make a successful, exciting trip. Whitewater rafting is one of the most thrilling of outdoor activities and requires a team effort. The raft guides will analyze the river and select the safest and most practical way through the rapids. For safety reasons Questrails require each crew member to wear a buoyancy vest, helmet and footwear. Each raft is guided by an experienced river guide. The Alaknanda is not a physically demanding journey but you should be reasonably fit. You must be prepared to help carry equipment and scramble up steep portage tracks. The best preparation for this is an overall fitness plan such as walking and/or running on a regular basis and some upper body exercises such as push ups, swimming etc. We at Questrails feel that fitness proves to be a prime determining factor of people's overall enjoyment of their rafting trips.
Company Liability
It is in the nature of a holiday of this kind to be flexible. The day-to-day agenda and ultimate goal of the tour is taken as an aim and not as a contractual obligation. We shall not be responsible for the delays or alterations in the program or expenses incurred due to conflict, international or internal flight delay or cancellations, strikes, sickness, weather, landslides, war, vehicle problems, political closures and disputes.
The booking is accepted on the understanding that you realize the potential risks and hazards that can be involved in holidays of this kind. Questrails, along with our associates/leaders/guides and any one else working in association with us can not be held responsible for any death, accident or mishap that may occur in connection with any part of, or services connected with the holiday.
The cost is for the entire package and there would be no refunds in case any part of the package is not availed.
Company would not be liable to pay any kind of compensation arising because of any mishap, sickness, accident etc.
However as a matter of safe guard we will be doing an accidental insurance and third party liability insurance for all the members on the trip







Copyright ©AeTravel.com All Right Reserved (Copying of Text & Picture from this site is Strictly Prohibited).

Site Developed & Maintained by Ushainformatique.com & ElectronWeb.com