| | |
| --- | --- |
| | Explore Indian adventure with bikes or enjoy a jeep safari tour. |
Brahmaputra Rafting Tour

Trip Info
Duration: 12 Days / 11 Nights


Day 01 :
Delhi
Arrival at Airport / Railway Station of Delhi where Guest would be greeted by our representative. Directly transfer towards domestic airport inorder to catch flight towards Dibrugarh. Arrival at Dibrugrah and check in at hotel for overnight halt. Free for own activities
Day 02 :

After breakfast, transfer to Pasighat by boat which is almost 80 kms and would probably take about 08 hours. On this boating trip one can have glance at Ganges River Dolphin & a great variety of resdient & migratory birds from Siberia & Central Europe. Overnight at camp on river side of Pasighat.
Day 03
After breakfast at Camp in Pasighat, drive along Siang river, tresspassing through Adi villages, settlements and lush tropical rainforest. Tuting is the starting point of our rafting. Arrival at Tuting and Check in at Camp. Free for own activities,
Day 04 :
This is a relaxed day to sort out gear. Free for own activities or walk through the local tribals village. Overnight at Camp in Tuting.
Day 05 :
After early morning breakfast, Get set Go for rafting from Tuting to Pango. This is a long and there is a chance to encounter big Class IV Ninguing rapid and Class 3 rapid at Palsi. Arrival at Pango and set the camp for overnight halt. Campfire dinner and overnight Camp.
Day 06 :
This is another exciting day to raft where you can have the breath taking view of Jungles and remote area. This rafting starts from Pango and ends at Cherring where you will encounter big rapid at Rikor and Zebra Rock rapid and also Class 6 rapid at Cherring. Overnight Camp.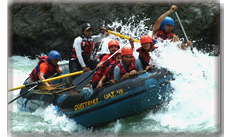 Day 07 :
Early morning after breakfast, start our adventerous journey of rafting from Cherring to Alubadi where you will have to face several Class 3+ rapids followed by a float. Arrival at Alubadi and set up camp for overnight halt.
Day 08 :
Today our rafting begins with big rapid below Alubadi beach, which is commonly called as 'Moing Madness". Arrival at the beautiful camp site of Geku. Set up Camp for the night halt at Geku.
Day 09:
Entire day free for own activities and Rest. Overnight at Geku.
Day 10 :
With the sunshine at the mighty sky we will raft from Geku till Sangam. This is probably an easy day with long float sections. Arrival at Rotung and free for own activities. Dinner at Camp fire and overnight at camp.
Day 11 :
Today our rafting begins from Rotung and ends at Pasighat. This is the final run to the plains at Pasighat by negotiating the last biggie on the trip at Ponging. The Siang seems to gather a lot more volume as we float into Pasighat where we beach our rafts for the last time on this trip. Transfer to rest house at Pasighat.
Day 12 :
Drive to Boghiwheel Ghat and take a ferry boat across to Dibrugarh. Transfer to airport for flight to New Delhi. Trip ends.





Copyright ©AeTravel.com All Right Reserved (Copying of Text & Picture from this site is Strictly Prohibited).

Site Developed & Maintained by Ushainformatique.com & ElectronWeb.com