| | |
| --- | --- |
| | Trekking enthusiast can also explore the rugged beauty of the lofty mountains |
Dharamshala To chamba via Indarhara pass

Trip Info
Duration: 05 Days / 04 Nights
Destination: Mcleondganj - Triund - Lahesh Cave - Chhata Paraow - Kwarsi - Lamu
Highest point 4350 mts.
Best Season June to October.
Class Moderate
Starting point of this trek is a famous town Dharmsahala which lies in the district of Kangara during this trek we3 will reach highest ponit of 4350 mts. This trek starts with the gradually climb through tthe himalayan region and turns into stip ascent. During this trek we will rock through rich wildlife areas well known for leopard, monalls, pigs and wild goats. We will come across some of the best birding site of the himlayas and have majestic view of might Dhauladhar and its towering picks like moon (4610 mts) salb 4570 etc.
Day 01 : Mcleondganj (1860 mts ) to Triund (4 - 5 hrs )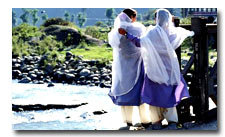 After Early breakfast drive for few kilometers which is starting points for our treks. The initial treks is gradual plan and later stip ascent through the ridge of trees leads Triund ( 2975 mts.)
Overnight Camp.
Day 02 : Triund to Lahesh Cave (3500 mts) duration ( 3-4 hrs )
Your early day starts on 6kms beaten treks which is used frequently by the gaddi shephards a moderate ascent ends near Illaqagote (3350 mts) is grass meadow at the bottom of Indrahara pass and is a ideal place for camping. The natuaral lahesh cave is about half a kilometer from Illaqagote.
Overnight Camp.
Day 03 : Lahesh Cave to Chhata Paraow (3700 mts) via Indrahara pass 7-8 hrs
The early day starts with the steady climb to Indrahara pass which nearly takes 3 hrs a very stip clients at certain points takes a on stip rock face of Dauladharr. The top of the pass offers a wide a scenic view of Kangra valley and the plains of the Punjab. Coming to Chhata parrow is also challenging during which the treks goes down sharply. Chatta parrow is small and flat camping area with huge lake " Nag Dal".
Overnight Camp.
Day 04 :chhata Parrow to Kwarsi (2730 mts) 5-6 hrs
A long 14 kms of well defined stretch leads to Kwarsi which is a big village surrounded by Deodar forest and thick pine.
Overnight Camp.
Day 05: Kwarsi to LamuIt
Kwarsi to LamuIt is 14 km walk to kwarsi to Lamu with some dangerous stretches, we will move through hilling village and finishing our trek to choli. The end point of our trek is a connected by road. Later on a day drive to chamba.End of the Trek.





Copyright ©AeTravel.com All Right Reserved (Copying of Text & Picture from this site is Strictly Prohibited).

Site Developed & Maintained by Ushainformatique.com & ElectronWeb.com