| | |
| --- | --- |
| | Explore Indian adventure with bikes or enjoy a jeep safari tour. |
Birding in Ladakh

Trip Info
Ladakh is part of Indian state of Jammu & Kashmir. It is the western extension of vast Tibetan land. Its not easy place for birding , due to remotness & limited accessibility. one have spent some time do some serious birding. Ladakh is an vast isolated land which has high altitude. It has chain of 2 mountain ranges Karakoram in North & Zanskar in south. Ladakh has around 300 species of birding & is exellent place to see the migratory birds. Though resident species are altitudinal migrants. There are alot of Breeding migrates that visit Ladakh , during summers in month of April and May & migrate back in August. Here we have listed some of the prominent birding spots of the vast land.

Birding spots of Ladakh :

Suru Valley

Located at altitude of 2700mts, Suru valley is One of the most beautiful regions of Ladakh. the valley has combinations of Scrubs , meadows & fields.The Suru valley is heart of Kargil which extends to a length of 75 kms till Panikar in south & Penzilla watershed in east. The highers reaches of valley is home to some species of birds that can be seen in Eastern Ladakh also. Some of the rare birds found here are , Longbilled Bush Warbler, White-tailed Rubythroat , Firecapped Tit ,Little Forktail, several warblers,Etc. The best birding spots of valley are Rungdum , Parakachik & Sanko.
The Rizong Monastery

Rizong monestory is located 70 kms from Leh, This is the monestory known for its high levels of monastic levels, It is one of the most remotest located Monestories of Ladakh & have a stunning location, The monk of this monestory performs a majot role in protecting the area, there is small stream & apricot groves here which is great birding place for lowland species like Brown Dipper , Wallcreeper and Eurasian Sparrowhawk etc.
Hemis National Park and the Rumbak Valley

Hemis National park is situated 40 kms southeast of Leh, Hemis is located on the banks of River Indus. The park has got area of 600sq kms with an average altitude of 3000mts. Hemis National park is known for its unique flora and fauna. It provides a great option with both mammals & birds some rare birds found here are Brown and White-throated Dippers, Robin Accentor, Wallcreeper, Golden Eagle, White-winged Redstart , Lammergeier, Horned Lark , Himalayan Snowcock , Rock Bunting , Red-fronted Serin, rosefinches and mountain finches.etc.
Its a great place to spot some rare mammals like snow leopard, Tibetan wild or kiang,urial, blue sheep, ibex, serow and Tibetan antelope etc.
Shey marshes: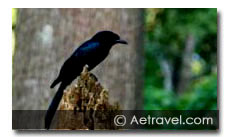 Its must visit place for any birder, Shey marshes are located in outskirts of Leh at a distance of 7 kms, The birding area extents upto Tikshey monestory, One has to cross irrigation channels to reach river. Its wetland with some great birding to offer, birds that can be seen in area are common coot, blue throat, common tern ,Eurasian Golden Oriole,Hume's lesser white-throat, Ibisbill, little grebe,blue rock thrush , northern pintail, Eurasian Hobby,red-crested pochard , booted eagle , White-winged Redstart, Citrine Wagtail, Carrion Crow , tufted duck, common teal,Hume's short-toed lark ,garganey, Streaked Rosefinch, plain mountain finch .
Nubra Valley:

Nubra valley was offlimits to travellers till 1994, this incredible valley is is located in North of Leh is approched by Khardung La Pass (5700m), the highest motorable road in the world. Nubra valley has 70km long Siachen Glacier, which is the longest glacier in the Karakoram range. The valley has spectacular sand-dunes, small swamps and extensive buckthorn which is great habitat for some rare birds like Oriental Skylark, Tibetan Snowcock, variety of shrikes & warblers , chats and Finches , ducks and raptors , winter wren , robin & alpine accentor ,Brandt's mountain finch , white-winged redstart ,yellow-billed chough, brown dipper etc.
Nubra Valley is great place to spot some rare mammals like fox, wooly hare, pika, Himalayan marmot, lynx,blue sheep , Bactrian camel & is the only place in India to spot Cape hares
Puga Valley :

Puga valley is located in close parimeters of salt lake valley, Welknown for it borax & sulphur deposite this valley has offers great variety of habitat for birds, The valley has combinations meadows, marshes, streams & high rocky slopes.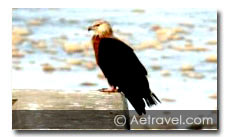 Theres a good variety of birds to seen at this place, including Ibisbill, Tibetan Partridge ,horned lark , Tibetan Snowcock, brown-headed gull , Eurasian Eagle-owl,ruddy shelduck , Lammergeier, common merganser, Upland Buzzard , White-tailed Ruby throat and Black-necked Crane Eurasian Jackdaw, Eurasian Wryneck, White-throated Dipper,golden eagle etc.
There are frequent sightings of mammal life like marmot , blue sheep , Wolf , woolly hare ,pika, fox & weasels.
Tsomoriri Lake :

Tso Moriri is situated at altitude of 4595 m . Tsomiri is the largest of the High Altitude Lakes in India. Its a protected area officialy known as "Tsomoriri Wetland Conservation Reserve". Located in Changthang plains, Tso moriri is a frsh water blackish lake with an area of 120 sq kms.
Tso moriri is one of the best birding spots of Ladakh, It the best know as breeding ground for Bar headed Geese & is the only breeding spot in india for Rare black Necked crane. The region is a breeding ground for many other species like common redshank ,ruddy shelduck , lesser sand plover etc. Birds that can be spotted here are lesser sand plover , brownheaded gull , greatcrested grebe , Accentors, rosefinches and mountain-finches, Tibetan Sandgrouse, Little Owl, Hume's Short-toed Lark, Horned Lark, Blanford's Snowfinch , Brahminy Starling, Eurasian Jackdaw etc. There are frequent records of mammal life like marmot , blue sheep , Wolf, woolly hare ,pika, fox & weasels.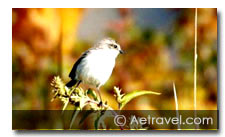 Tso Kar means "the white lake". It is approx 45 kms northwest of the Tsomoriri lake. Tsokhar is salt water lake & is so salty that salt extracted are still sold all over Ladakh. The wild ass can be seen grazing on the pastures on the side of the lake. It has got a small gompa and the surrounding village THUKSE. Tso Kar is breeding ground for Bar headed geese & Rudyshel duck. Birds that can be seen here are Black-necked Cranes , Great Crested Grebe , Tibetan Sandgrouse , Plain-backed Snowfinch, Golden Eagle, Upland Buzzard, Common Kestrel, Lesser Sand Plover , kites, harriers Little Owl etc.
Tsokar is a great spot for Mammals including wolf, fox, weasel, wild ass ( Kiang ), blue sheep, argali, marmot, woolly hare and pika





Copyright ©AeTravel.com All Right Reserved

(Copying of Text & Picture from this site is Strictly Prohibited).

Site Developed & Maintained by Ushainformatique.com & ElectronWeb.com