| | |
| --- | --- |
| | Explore Indian adventure with bikes or enjoy a jeep safari tour. |
Birding in East India

Trip Info Duration:

10 Nights / 11 Days tour by Road and Air

Destination:

• 03 nights in Delhi
• 04 Nights in Kaziranga National Park
• 03 Nights in Nameri National Park
• 01 Nights in Guwahati
The relatively unexplored northeast frontier of the Indian subcontinent supports some of the rarest and most sought after Oriental species. The region's enormous range of altitudes and habitats and high precipitation caused by the eastern Himalayas and the Brahmaputra Valley has made it a haven for birdwatchers.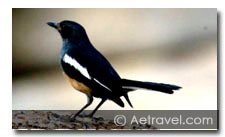 White-winged Wood Duck, Dark-rumped Swift, Marsh Babbler, White-bellied Heron, Rufous-backed Sibia and Beautiful Nuthatch are just few of the exotic species found in this region.
Guwahati, the bustling capital of Assam is one of the best places in the world to see the highly endangered Greater Adjutant at close range.
Kaziranga is a superb tract of land whose rich avifauna is overshadowed by the One-horned rhinoceros for which the park is renowned. On account of its dense bird life, this low-lying grassland with several large shallow lakes and patches of open woodland is considered as 'Bharatpur of the East'. The marshes support many species of waterfowl and an elephant ride reveals grassland species such as Bengal Florican, Swamp Francolin and Chestnut-capped Babbler.
The adjoining Panbari forests are home to Fairy Bluebird, Puff-throated Babblers, Silver-breasted Broadbill, Grey Peacock Pheasant and flocks of the much sought after Spot-winged Starling in winters.
Tea plantations and adjoining scrub and cultivation can be explored for the Rufous-necked Laughing Thrush, Common Green Magpie and Thick-billed Warbler.





Copyright ©AeTravel.com All Right Reserved

(Copying of Text & Picture from this site is Strictly Prohibited).

Site Developed & Maintained by Ushainformatique.com & ElectronWeb.com